News | Beating Retreat Preparations Underway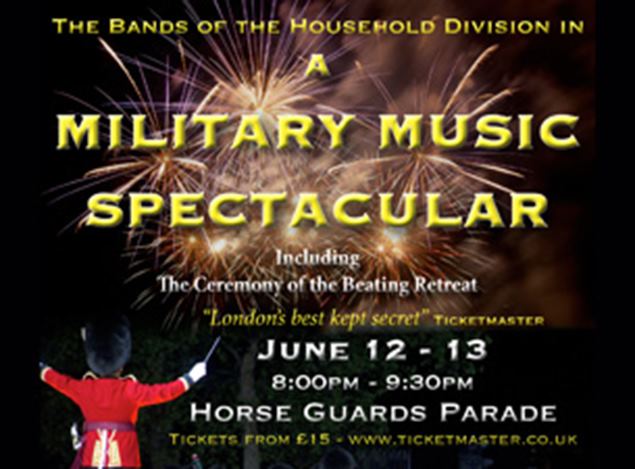 Published: 28 May 2013 :
The British Army announced today that final preparations are underway for a Military Music Spectacular that includes Beating Retreat.
The extravaganza takes place in the historic setting of Horse Guards Parade, off Whitehall. The Salute on the first evening, 12th June 2013 is being taken by The Chief of the General Staff, General Sir Peter Wall, and on the second night, 13th June 2013 by Her Majesty, The Queen accompanied by HRH the Duke of Edinburgh.
The Military Music Spectacular involves musicians from the Army?s Household Division, who take part in the capital?s state and ceremonial occasions.
The event incorporates the centuries-old custom of Beating Retreat, when a drummer would beat a signal in the evening to call patrols back to their base for the night.
In an unforgettable floodlit evening of British pageantry culminating in a Firework Finale, the audience will see and hear the Musical Ride of The King?s Troop Royal Horse Artillery, State Trumpeters, the Mounted Bands of the Household Cavalry, the Corps of Drums, the Pipes and Drums and the Massed Bands of the five regiments of Foot Guards.
Special guests this year are the ever popular Bands and Bugles of The Rifles, in their green uniform, marching at their traditional fast speed of 140 paces to the minute and the Napoleonic Association who will re-enact the Battle of Vittoria to the music of Beethoven?s Battle Symphony.
Beating Retreat takes place at 8pm on the evenings of 12th and 13th June.
Tickets are available from:
The Guards Museum, Birdcage Walk, London
Ticketmaster hotline for Beating Retreat: 0844 847 2435
Pictures from Beating Retreat will be published on Facebook as soon as available.