News / An Extra Special Beating Retreat - Waterloo 200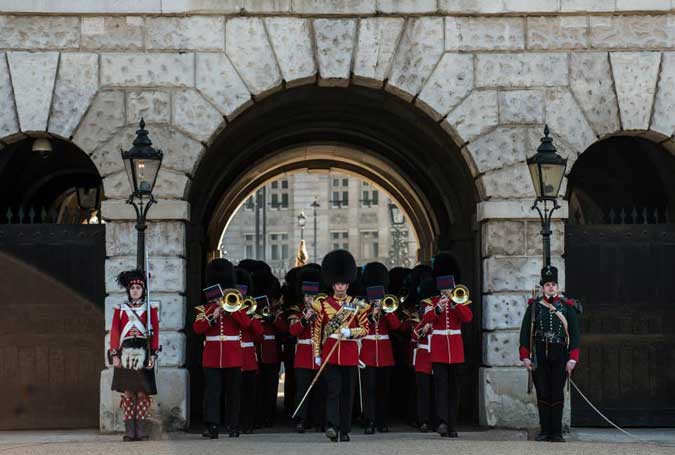 Published: 23rd March 2015
Photographers; Sgt. Rupert Frere RLC and Bdr Murrey Kerr MOG

---
With music reverberating of the arch, that marks the official entrance to the Royal Palaces, the Band of the Irish Guards gave a hint of what the public can expect at the extra special Beating Retreat this year, which commemorates the 200th anniversary of the Battle of Waterloo, as they marched onto Horse Guards Parade past two sentries dressed in period uniform.
Visitors and press enjoyed a dramatic, musical tableau performed by musicians from the Massed Bands of the Household Division and trumpeters high above, on the roof of Horse Guards, for the official launch of this summer?s very special Beating Retreat.?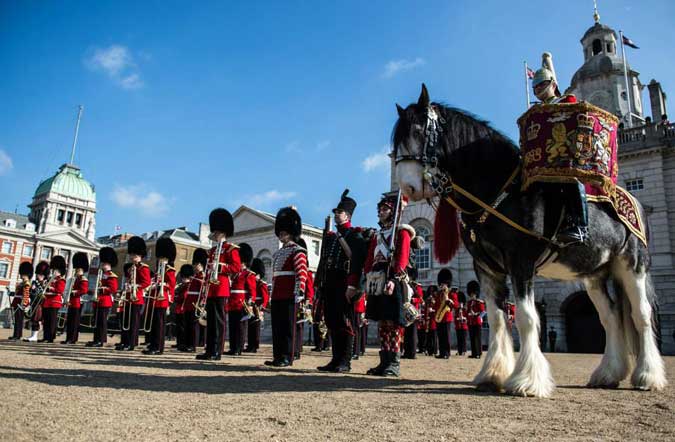 Beating Retreat which takes place annually, on two evenings in June, is a spectacular pageant of precision drill, horses, cannons and fireworks set to music on Horse Guards Parade,
This year promises to be even more spectacular, when in the presence of Foreign Dignitaries and British Royalty, 600 performers, including 100 Napoleonic Association re-enactors, the Massed Bands of the Household Division, and dozens of horses will act out the highlights of the Battle of Waterloo in a showcase of music and pageantry on the historic setting of Horse Guards Parade. against the magnificent backdrop of St James?s Park.
The Household Division' guest performers this year are The Musikkorps der Bundeswehr (The Concert Band of the German Armed Forces) and the Royal Choral Society.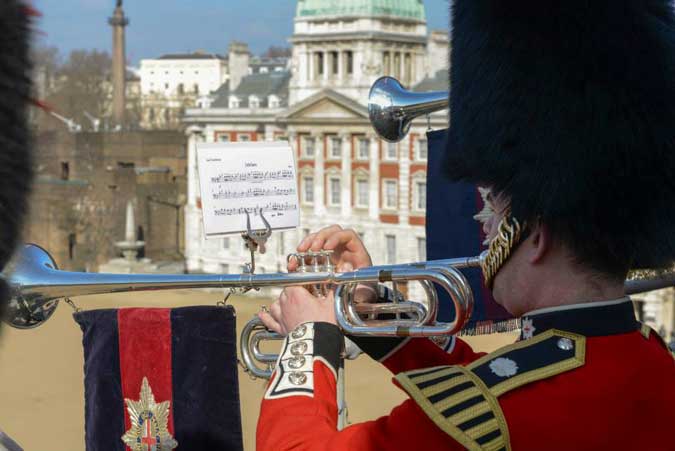 For the first time in 200 years a bugle recovered from the battlefield will be played during the summer evening concert.
The Bugle was found alongside a Drummer and Drummer?s Handbook of Bugle Calls, which is still referred to today by musicians in the Corps of Army Music.?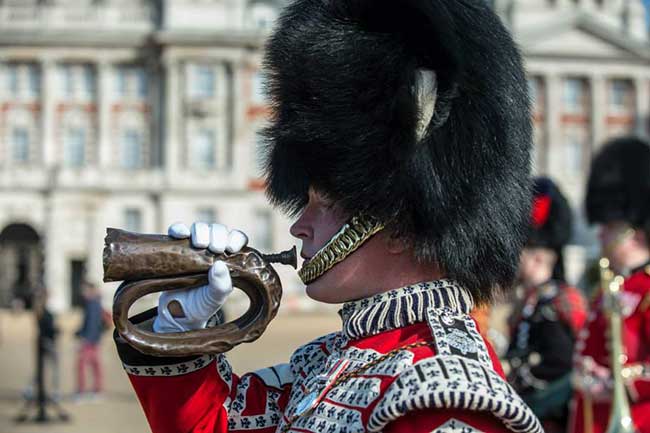 Beating Retreat this year takes place on the Wednesday 10th June and Thursday 11th June 2015. Thousands of tickets were released for public sale today but are expected to sell fast.