News | 60 Gun Salute Will Mark Anniversary Of Queen's Coronation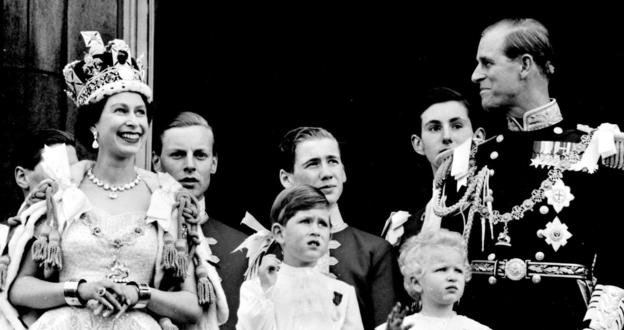 Published: 27 May 2013

Royal Salute in Honour of the 60th Anniversary Of the Coronation Of Her Majesty The Queen will be performed by Kings Troop Royal Horse Artillery in Green Park on the 3rd of June.
The King?s Troop Royal Horse Artillery, the ceremonial saluting battery of the Household Division, will fire a 41 Gun Royal Salute from Green Park at midday on the 3 June, in honour of the 60th Anniversary of the Coronation of Her Majesty The Queen.
The soldiers, horses and guns of the King?s Troop, will ride out from their forward mounting base in Wellington Barracks at approximately 11am and make their way up Birdcage Walk, past the Queen Victoria Memorial and Buckingham Palace, up Constitution Hill and into Green Park. The guns are the Regiment?s colours and so are afforded due respect throughout the route.
Before their arrival in Green Park, the Band of the Royal Artillery will play a selection of celebratory music close to the firing position. 71 horses pulling six First World War-era 13-pounder field guns will then dramatically come into action from the North of the Park to place the guns into position for the Royal Salute. The Commanding Officer will be Major Mark Edward RHA, and the Parade Commander will be Captain John Gibson, the Adjutant.
On the word of command each of the six guns will fire blank artillery rounds at ten-second intervals until forty one shots have been fired. The horses and riders will then collect the guns and escort them back to Wellington Barracks in Birdcage Walk.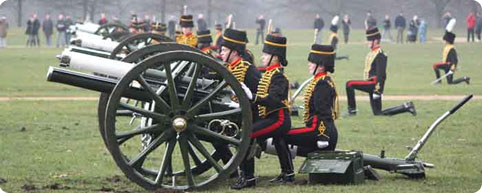 The King's Troop Royal Horse Artillery is a British Army mounted ceremonial unit that fires Royal Salutes on Royal Anniversaries and State Occasions, such as State Visits and Royal birthdays, and they provide a gun carriage and a team of black horses for State and Military Funerals.
They provided the gun carriage to bear the coffin of Baroness Thatcher in ceremonial procession to St Paul?s cathedral on 17th April 2013, and the gun and the horses that drew it will be participating in this 41 Gun Royal Salute.

Permanently based in Woolwich, King?s Troop soldiers also have a vital operational role. Trained as fighting soldiers first and foremost, the unit currently has several personnel currently deployed in Afghanistan.
When the Army mobilises, King?s Troop Royal Horse Artillery provides HGV drivers who deliver ammunition to artillery units around the battlefield.

Her Majesty?s Coronation Anniversary falls on Sunday 2nd June 2013. However, in accordance with tradition the Royal Salute is not fired on a Sunday but fired the following day.