News / Changing of the Guard July Highlights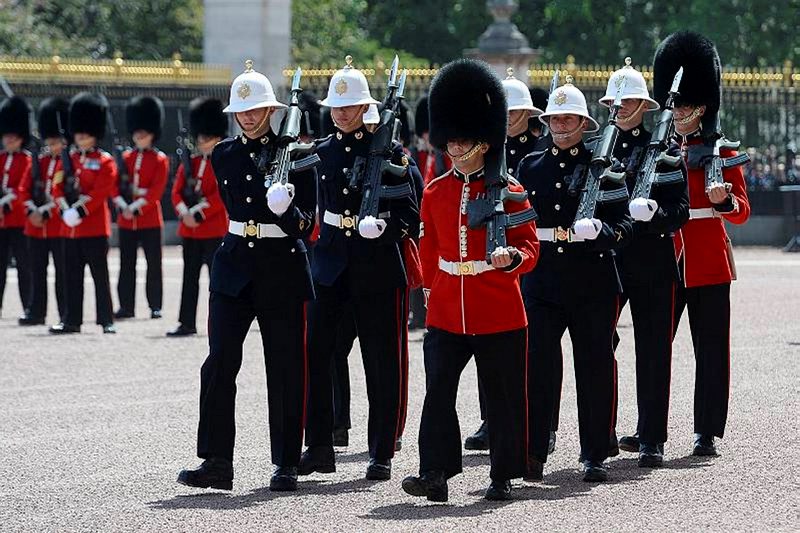 Published: 29th June 2014 .

---
Stirring music, different uniforms, guards from Canada and one of the few times when the fairer sex can be seen guarding the Sovereign. are all part of the highlights for those planning a visit to London to see the Changing of the Guard ceremony in July.
Royal Marines supported by the Band of the Royal Marines continue to Mount Guard at Buckingham Palace and Windsor (see schedule for specific dates).

Kings Troop Royal Horse Artillery will be providing the Queen's Life Guard at Horse Guards until the 24th July. One of the few occasions when you can see the fairer sex guarding the sovereign. Monday to Saturday at 11:00 and 10:00 on Sunday.

Monday 14th July, Wednesday 16th July & Friday 18th July, 11.00am,
22nd Canadian Regiment supported by their Mounted Band to Mount Guard at Buckingham Palace and Tower of London.

Saturday 5th July, 7.00pm, Concerts in the Park ?Rock and Pop Concert, Kneller Hall

Saturday 12th July, 11.00am, Belgium National Act of Remembrance at the Cenotaph followed by 11.20am at the Guards Memorial on Horse Guards Parade.

Sunday 13th July, 3.00pm, Concerts in the Park ?World War one Commemoration Concert, Kneller Hall.

Wednesday 16th July, 8.00pm, Concerts in the Park ?Corps of Army Music ?Brass Bands?, Kneller Hall.

Wednesday 23rd July, 8.00pm, Concerts in the Park ?Last Night of the Proms, Kneller Hall