News | Kings Troop RHA Annual Parade In Regents Park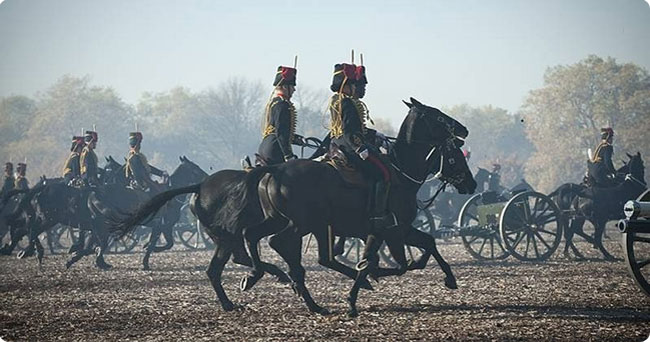 Published: 17 April 2013
Image: Courtesy Ministry of Defence | Image remains crown copyright.
See Kings Troop Royal Horse Artillery perform the world famous musical Drive in Regents Park FREE!
Major General George Norton, General Officer Commanding The Household Division, will conduct his annual inspection of the King?s Troop Royal Horse Artillery at 11.45 am on the On 24th April 2013 at Gloucester Green, located in the North-eastern corner of Regent?s Park, close to the London Zoo.
Members of the public are invited to attend this FREE colourful and spectacular event and also watch the world-famous Musical Drive. The Band of the Royal Artillery will be in support.
The King?s Troop Royal Horse Artillery [KTRHA] is based in Woolwich and is responsible for firing Royal and ceremonial salutes. Six magnificently turned ?out horses draw each of six WW1 13 pounder field guns and limbers, with the gun detachment riding behind each gun.
KTRHA is the senior unit of the British Army when on parade with its guns. It can also be seen riding on the Queen?s Birthday Parade, The State Opening of Parliament and State Visits.
The unit took centre stage at the ceremonial funeral of Baroness Thatcher, bearing the coffin in the ceremonial procession from St Clement Danes to St Paul?s Cathedral on one of their gun carriages.