News / Road to War
Published: 11th May 2015
Photographers; Sergeant Rupert Frere RLC

---
Lyndhurst Road, Peckham was transported back to 1915 today when eighteen horses from the Household Cavalry Mounted Regiment, nine each from the Blues and Royals and the Life Guards congregated to recreate an iconic postcard of men and horse preparing for war.
Melissa Smith, a local artist and social historian who lives in Peckham, has been working on the project for over a year to re-create the photograph in the same road where it was originally taken in 1915.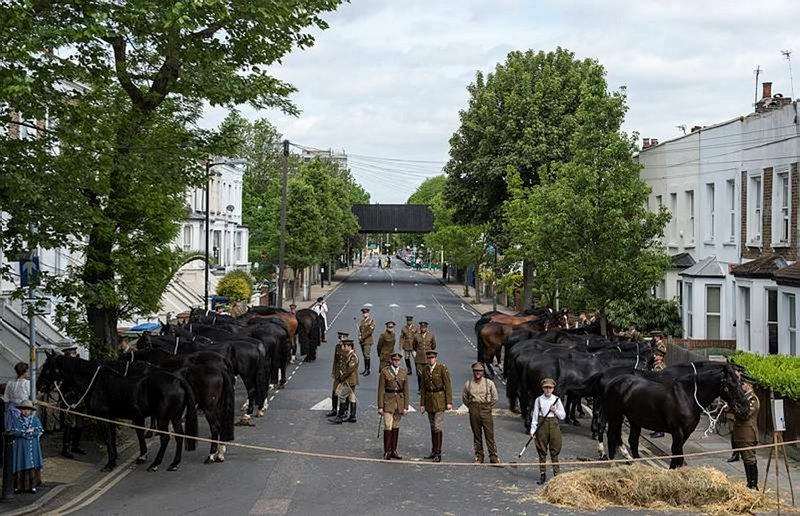 Melissa said: "This photograph is haunting in so many ways, but perhaps because we know that so many of the men and horses in it never came home it is especially poignant.
I had dreamed of re-creating it because it's such a powerful image, and it's possible because the street remains virtually unchanged in the 100 years since it was taken.
As an artist I am inspired and delighted by history, and I'm always looking for ways to bring it to life.
Because of War Horse, we know that animals provide a useful key to help children understand and learn about WWI, and that gave me the idea to work with local schools and give children the opportunity to do Special WWI Centenary Arts Awards.
The re-enactment is not about glorifying war, it is a way of remembering and discovering that provides a powerful reminder of how much has changed since 1915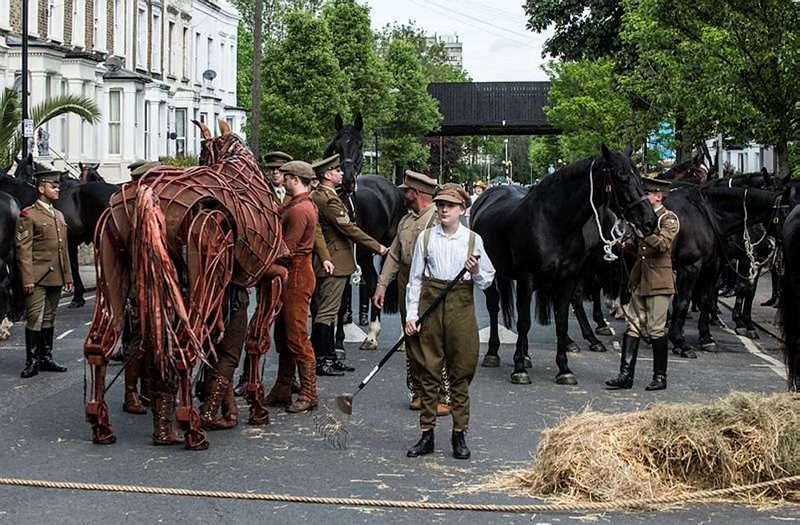 You can see Joey in action at the New London Theatre, in War Horse a powerful moving and imaginative drama, filled with stirring music and songs.
At the heart of the show are the astonishing life-sized puppets, by South Africa?s Handspring Puppet Company, who bring breathing, galloping, charging horses to thrilling life on stage.
You can get tickets for War Horse at the New London Theatre, Drury Lane, where you can see the story of Joey the war horse unfold on stage.
The 2.5-hour show based on Michael Morpurgo?s 'War Horse' novel combines a performance by life-size puppets with impressive choreography and evocative folk music. Watch the heroic adventures of the beloved war horse and follow his journey from the peaceful Devon hills to the bloody trenches and battlefields of the First World War.