News | Soldier Becomes Freeman Of The City Of London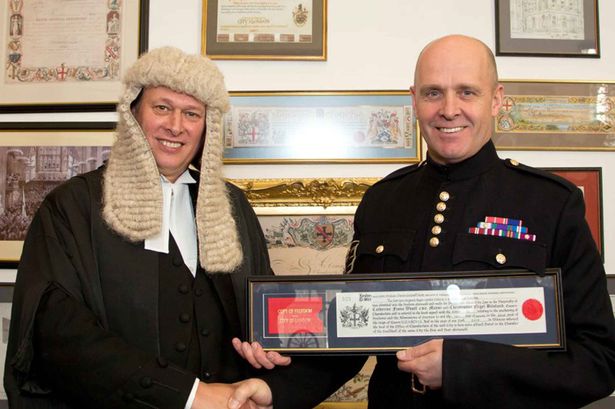 Published: 14 November 2013

Master of Ceremonial Becomes Freeman of the City of London
The soldier who has masterminded ceremonial events in London for the past 13 years has been given the Freedom of the City of London. Garrison Sergeant Major Bill Mott was honoured in a ceremony at the Guildhall, London.
As the man responsible for the smooth running of all military and government ceremonial events in London, GSM Mott has taken charge of many events in the City of London, most recently the funeral of Baroness Thatcher in 2013.
Normally granted only to members of Livery Companies and to military units, the Freedom of the City can be granted to other people who have given significant service to the City of London.
Having served as Garrison Sergeant Major for the Army in London since 2000, Mr Mott has overseen military involvement at numerous events in the City, including the Queen?s Golden and Diamond Jubilee.
The Remembrancer of the City of London, Paul Double, said, ?Bill Mott has contributed so much to the City?s part of State Visits. Without Bill?s expertise, we simply couldn't have run what we do.?
A native of Deeside, GSM Mott joined the Welsh Guards in 1979 and served with his two brothers in the Falkland Islands, where they survived the bombing of HMS Galahad.
With additional operational tours in Northern Ireland and Iraq and three periods as an instructor at the Royal Military Academy Sandhurst, Mr Mott has all the experience needed to deal with the variety of events and people involved for which he is responsible.
Major General Sir Sebastian Roberts, a former General Officer Commanding the Army in London, whose brother served with GSM Mott on HMS Galahad, said, ?Mr Mott upholds the highest standards in drill and ceremonial events, but has also been the greatest supporter to me in every way. He gives unending personal commitment and sacrifice in what he does every day.?
Commenting on becoming a Freeman, Garrison Sergeant Major Mott said, ?I have been privileged to organise and oversee many events in the City of London, Baroness Thatcher?s funeral being a particular highlight.
So, it?s a great honour to be made a Freeman and I look forward to being of further service to the Lord Mayor and City of London in the future.?