Changing the Guard | Provisional Dates / Windsor Castle
Provisional dates for changing the Windsor Castle Guard 2017.
Published schedules can change, sometimes at short notice, when the Guards are required for operational or other ceremonial duties.
Important notice: From 16th January 2017 the summer and winter schedules for changing the Windsor Castle Guard have been changed.
Currently the guard is changing Mondays, Wednesdays, Fridays and Saturdays.
Please check the  confirmed dates as the schedules are under constant review.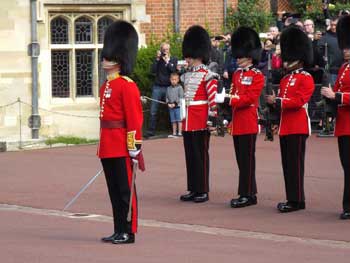 Provisional Dates for Windsor Castle Guard Mount
May 2017 - Changing the Guard schedule has been confirmed (Calendar)

June 2017 - No provisional dates are currently available for the summer months.
Disclaimer - Please Read
Every reasonable effort has been made by Changing-Guard.com to compile accurate information about the Changing of the Guard ceremony schedules and to keep these up to date.
However, schedules can and do change from time to time, sometimes without notice, meaning we cannot guarantee the Changing of the Guard ceremony will take place on the dates stated or accept any responsibility for loss or inconvenience caused by using the information provided on this website.