Changing The Guard | Queen's Life Guard / Dates & Times
Dates and times and information for Changing The Queen's Life Guard at Horse Guards Parade in London.
Dates For Changing The Queen's Life Guard.
The Queens Life Guard is scheduled to mount: Daily in November 2018
Timings for the Ceremony: 11:00 Monday - Saturday and at 10:00 on Sundays.
The cereremony for changing 'The Queen's Life Guard' lasts about 30 minutes.
Mounted sentries change every hour from 10:00 until 16:00
Wet Weather
In the event of heavy rain The Queen's Life Guard change inside the stables.
Members of the public, who purchase tickets to the Household Cavalry Museum, can see the men and horses through a glass screen in the museum.
Changes to The Life Guards Schedule
We use social media to share updates to the Changing Guard ceremonies.
LIKE US on the social media channels at the bottom of this page to get updates and the latest information.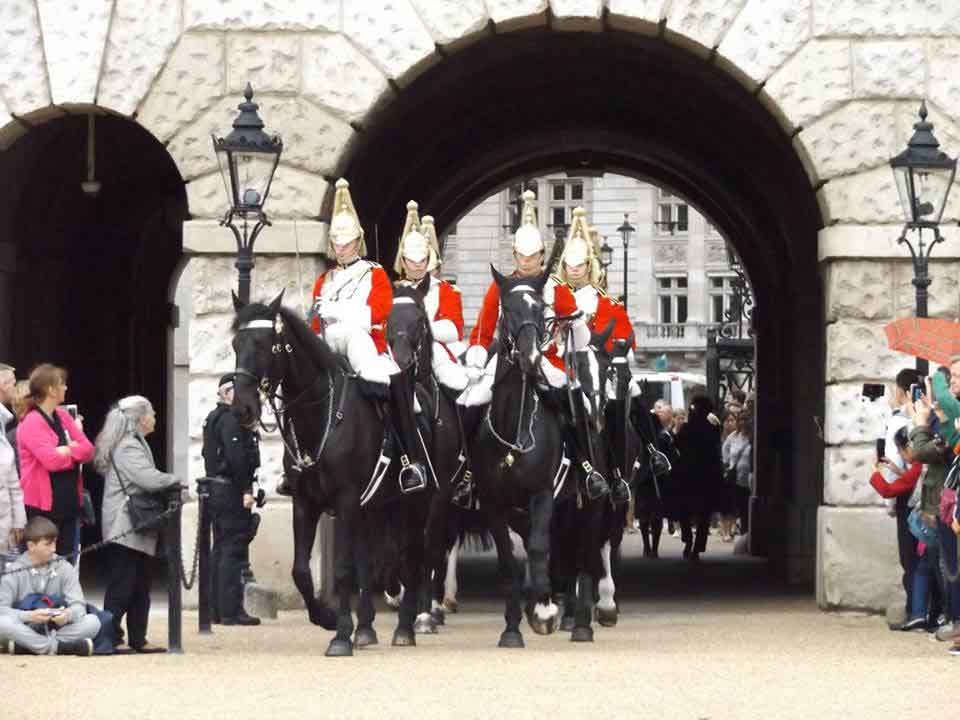 4 'O' Clock Parade
A Dismounting Ceremony, also known as the "4 'O' Clock Parade" takes place at 16:00 when dismounted sentries are posted and the horses returned to their stables.
Horse Guards Parade
Horse Guards Parade, is a large parade ground off Whitehall in central London.
(Scroll down for details of how to get to Horse Guards)
As well as being the venue for changing The Queen's Life Guard it is also the location for Trooping the Colour, which commemorates the Queen's Birthday, and Beating Retreat.
Meet The Household Cavalry
The Household Cavalry Museum, in the heart of London, provides an opportunity to get a behind the scenes look at The Queen's Lifeguard's history, training and working lives. Learn more...
Getting to Horse Guards Parade
Address: Horse Guards, London, SW1A 2AX
(Download Map)
By Underground - The nearest tube stations are:
Charing Cross - About 6 minutes walk. Bakerloo, & Northern line
Embankment - 10 minutes walk Bakerloo, Northern, District & Circle line
St James Park - 10 minutes walk District & Circle line
By Train - Nearest, mainline, train station:
Charing Cross - About 6 minutes walk
By Bus - Bus Numbers: 11, 12, 159, 24, 3, 453, 53, 87, 88, N109, N11, N136, N155, N2, N3, N381, N44, N87
By Car - Not recommended, Whitehall is in the congestion charge zone parking is difficult to find and expensive.
Getting Around London

The Visitor Oyster Card is the cheapest and most flexible way to travel around London.
Valid on London Underground, buses, trams and the Dockland Light Railway (DLR).
Cheap - a single tube journey will cost 4.30 with cash but a maximum of 2 with an Oyster card
Smart - You will never be charged more than a price of a London Travel card
Easy - your card is reusable and the credit never expires
Discounts on meals, expereinces, shopping, galleries and museums, including the Household Cavalry Museum with your Visitor Oyster card. More Details...
The London Travelcard gives you access to unlimited travel on London Underground trains, buses, Docklands Light Railway, trams and overland trains within London.
Cheap: with one ticket you get unlimited travel, [ within the zones your Travel card covers], working out much cheaper than buying single tickets
Easy: one ticket for one day or one week!
The Life Guards Route
The Queen's Life Guard leave Hyde Park Barracks at 10:28 weekdays and 09:28 on Sundays to ride to Horse Guards Parade via Hyde Park Corner, Constitution Hill and The Mall on their way to Changing the Queen's Life Guard ceremony.