Windsor Castle Guard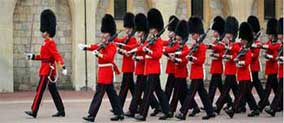 Changing the Guard at Windsor Castle provides a colourful spectacle as the Guards, usually led by a Regimental Band, march from Victoria Barracks to the castle.
You will need tickets for Windsor Castle as Changing the Guard takes place inside the castle precincts.
Learn more about the Windsor Castle Guard change ceremony, the dates, times and how to get there.
Royal Palaces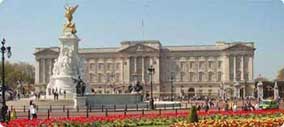 Many of the Palaces and Castles, open to visitors, have had a place in English history for generations. Here are a few of our favourites.
Buckingham Palace
Buckingham Palace, the London residence of Her Majesty The Queen, is one of the few working royal palaces, remaining in the world today.
Learn more about Buckingham Palace, and when the State Rooms are open to the public.
Windsor Castle
Windsor Castle, which has been the family home of British Kings and Queen's for over 900 years, is an historic castle.
Learn more about this Royal Palace, The Queen's favourite residence, its history, and when Windsor Castle is open to visitors.
Tower of London
Dark secrets, priceless jewels glinting in fortified vaults and ravens strutting the grounds are all waiting when you take a journey back in time at the Tower of London.
Learn more about the Tower of London
Frequently Asked Questions
Our FAQ pages have answers to the more common questions we are asked about the Changing of the Guard at Buckingham Palace and Windsor Castle.