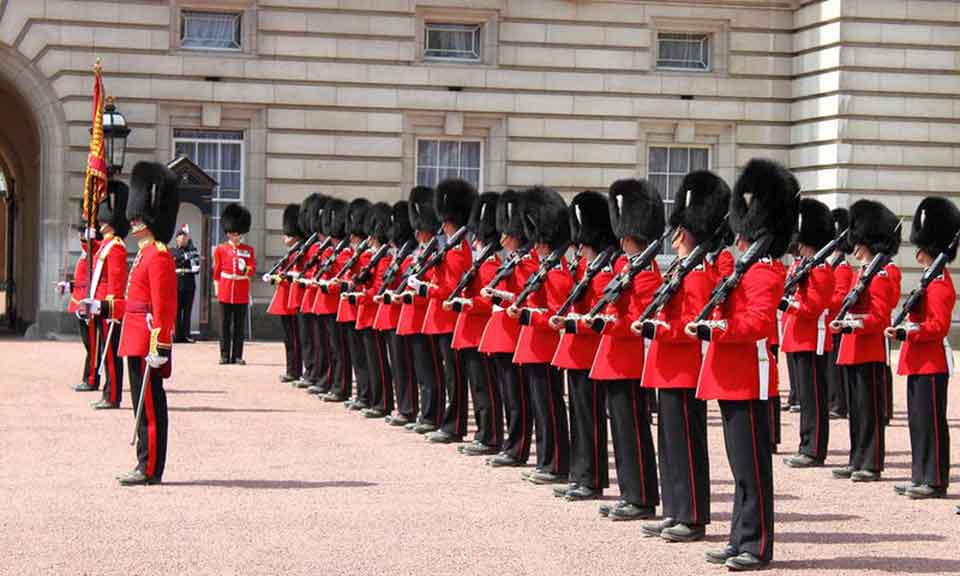 Changing the Guard at Buckingham Palace
Changing the Guard at Buckingham Palace is where immaculately turned out guards, precision drill and bands playing stirring music combine to create one of the most popular attractions in London.
Where to watch Changing of the Guard, the confirmed dates, times, Regiments and Bands on duty, plus pictures and information on how to see more of the ceremony than most visitors.
As Changing the Guard, does not take place everyday always check the schedule before travelling to Buckingham Palace.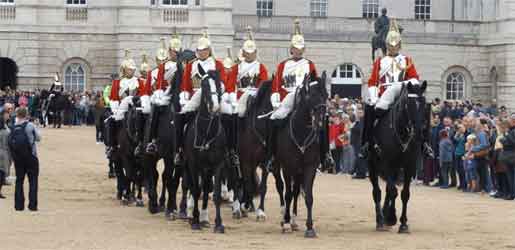 The Queen's Life Guard
The Queen's Life Guard change daily on Horse Guards Parade.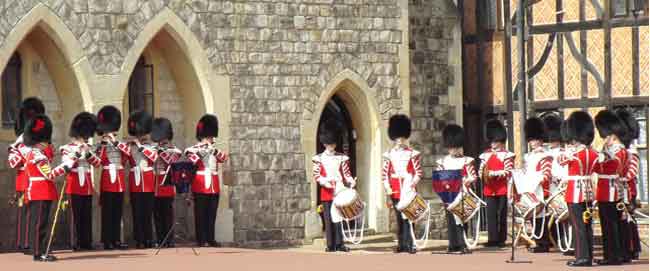 Windsor Castle Guard
Dates, times and where to watch the Windsor Castle Guard change which takes place inside the castle.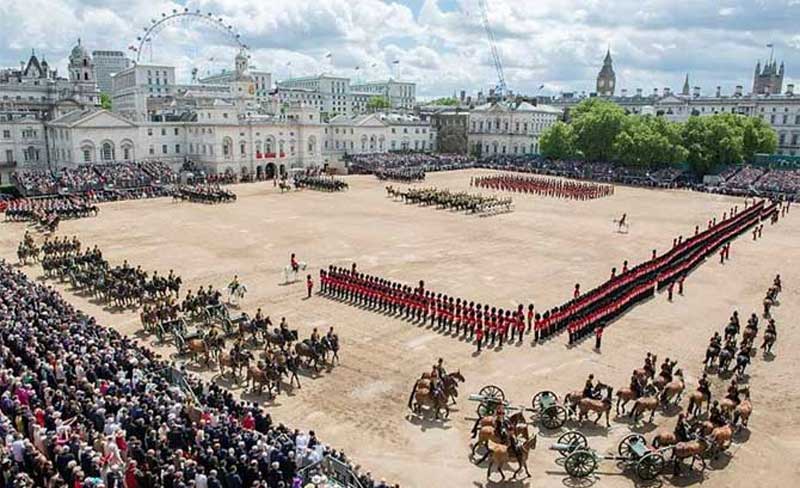 Ceremonial Events
Trooping the Colour, also known as 'The Queen's Birthday Parade', Beating Retreat, State Opening of Parliament, State Visits, the Garter Ceremony are some of the ceremonial events that take place annually
Learn more about the ceremonial events, when they take place and how to get tickets

Palaces and Castles
The Royal Palaces and Castles the Guards protect

Things To Do
Things to do and places to see in London.
Our favourite free and paid attractions
Wet Weather Cancellations
In wet weather the Changing of the Guard ceremonies can be cancelled without notice.
The decision to cancel is made by the Captain of the Guard, sometimes at the last minute and is made to protect the Bands very expensive instruments which can be damaged by rain.
Visiting With Children
To get a good spot outside Buckingham Palace to watch the Changing of the Guard means getting there early.
The long wait and huge crowds can make this a daunting experience for younger visitors.
We have a suggestion if you are visiting with children that will let them see the Guards, Band and Household Cavalry while avoiding a long wait in a huge crowd.
Changing the Guard FAQ
What time is Changing the Guard?
The official start time for Changing the Guard at Buckingham Palace is 11:00 hours, the ceremony lasts about 45 minutes. Dates / Times

Where is Changing the Guard?
Most people head for Buckingham Palace to see Changing the Guard, but the ceremony actually takes place between three locations - Buckingham Palace, St. James's Palace and Wellington Barracks. More...

What is the changing of the guard?
Changing of the Guard is where the responsibility for guarding Buckingham Palace is handed over by the Regiment on duty to the New Guard. Once the handover is complete the New Guard become the Queen's Guard until relieved.

Do you need tickets for Changing the Guard?
Changing the Guard at Buckingham Palace, and watching The Queen's Life Guard change on Horse Guards Parade is free of charge and no tickets are required.
Changing the Windsor Castle Guard takes place inside the Castle for which tickets are required.