Changing the Guard | Arlington / Tomb of the Unknowns
The Tomb of the Unknown Soldier, also known as 'The Tomb Of The Unknowns, in Arlington National Cemetery is the place to be, to see a Changing of the Guard ceremony, in the USA.
Changing The Guard At The Tomb Of The Unknowns
The Tomb of the Unknowns is a monument dedicated to American service personnel who have died without their remains being identified.
The Guards of Honour at the Tomb of the Unknowns, known as the Old Guard' honour all fallen American service personnel who are ' Known But to God.'
From October 1st to March 31st the guard is changed every hour on the hour.
From April 1st through September 30th, another change is added on the half hour and the cemetery closing time moves from 17:00hrs to 19:00hrs.
The impeccably uniformed guards wear Army Dress Blue Uniform and always bear their weapon away from the Tomb as a gesture against intrusion on their post.
The Ceremony
A relief commander appears on the plaza to announce the Changing of the Guard.
Shortly after a new sentry leaves the Quarters, he unlocks the bolt of his or her M-14 rifle to signal the relief commander to start the ceremony.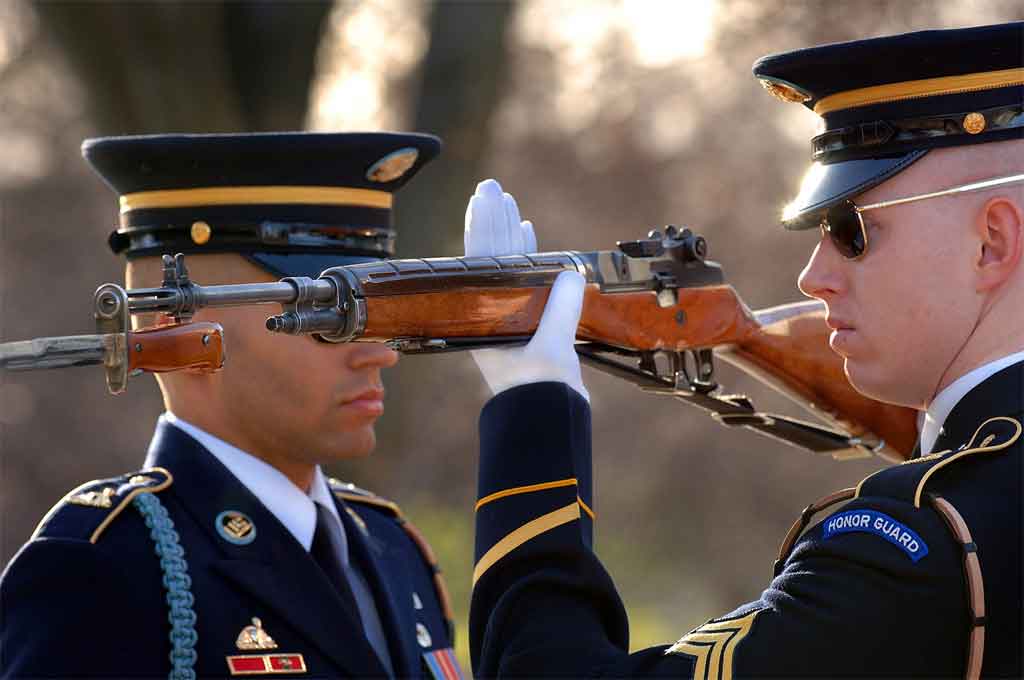 The relief commander walks out to the Tomb and salutes, then faces the spectators and asks them to stand and stay silent during the ceremony.
Following a detailed white-glove inspection of the weapon, checking each part of the rifle once the relief commander and the new sentry meet the retiring sentry at the centre of the matted path in front of the Tomb.
All three salute the Unknowns, who have been symbolically given the Medal of Honour.
The relief commander then orders the relieved sentry to; "Pass on your orders." The newly posted sentry replies, "Orders acknowledged," and steps into position on the black mat.
When the relief commander passes by, the new sentinel begins walking at a cadence of 90 steps per minute.
While on duty the sentry crosses a 63-foot rubber surfaced walkway in exactly 21 steps. He then faces the Tomb for 21 seconds, turns again, and pauses an additional 21 seconds before retracing his steps.
The number twenty-one was chosen because it symbolizes the highest military honour that can be bestowed - the 21-gun salute.
The duties of the sentries are not purely ceremonial, they will confront people who cross the barriers at the tomb or who are disrespectful or loud.