Changing the Guard | Ceremonial Events / State Visits
State visits are formal visits to the United Kingdom by Heads of State from overseas. There are usually two incoming State visits each year.
A State Visit normally last two or three days and start with an official reception at either Horse Guards in London, Windsor Castle or the Palace of Hollyrood House in Edinburgh.
Invitations to Foreign Monarchs, Presidents or Prime Ministers are sent on the advice of the Foreign and Commonwealth Office.
State Visits normally begin with a ceremonial welcome attended by The Queen and other senior members of the Royal Family. If the guest is staying at Buckingham Palace, the welcome takes place on Horse Guards Parade.
Next State Visit
The last State Visit took place on 12th to 14th July 2017 with King Felipe and Queen Letizia of Spain staying as guests of Her Majesty the Queen at Buckingham Palace.
Details of the next State Visit will be published as soon as they become available.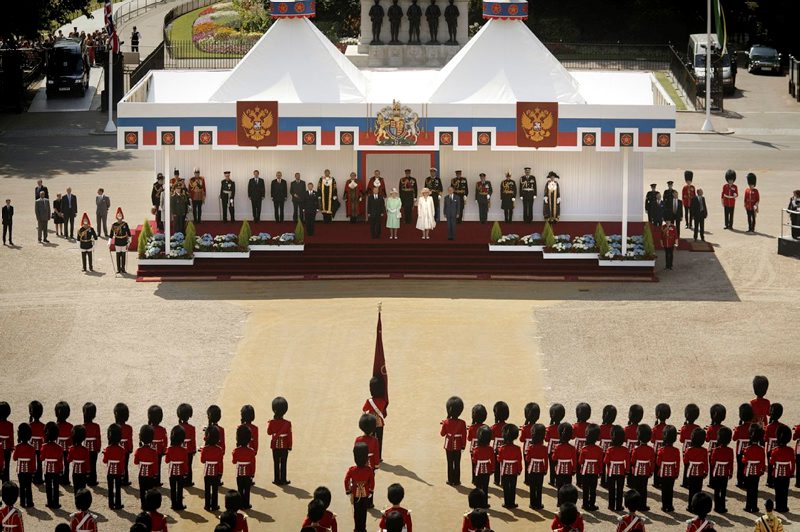 Once Her Majesty The Queen and other dignitaries have met the visitor they will normally inspect a Guard of Honour, provided by one of the Battalions or Incremental Companies of the Household Division.
The Captain of the Guard will always present the Guard in the language of the visitor.
After inspecting a guard of honour, the visiting President or Monarch then travels with H.M. The Queen, by carriage, back to Buckingham Palace with the Household Cavalry providing a Sovereign's Escort.
State Visit Time Table (1st November 2016)
11:45 onwards - Guard of Honour Ceremony on Horse Guards Parade.
Honour Guard provided by the 1st Battalion Coldstream Guards. Musical support from Band of the Coldstream Guards and 1st Bn. Coldstream Guards Corps of Drums.
12:00 - Arrival of Her Majesty The Queen.
12:30 - Departure of the carriages together with the Sovereign?s Escort of the Household Cavalry Mounted Regiment.
Musical support by The Band of the Household Cavalry.
Green Park
12.10 - Gun Salute by The Kings Troop Royal Horse Artillery.
Musical support by The Band of the Royal Artillery.
Tower Of London
12.10 - Gun Salute at Her Majesty's Fortress, The Tower of London by the Honourable
Artillery Company.
Where to Watch
Honour Guard Ceremony and Official Welcome - Corner of St James's Park facing Horse Guards.
Carriage Procession: - The Mall or the Memorial Garden, near Queen Victoria Memorial
Gun Salutes - Green Park by Constitution Hill. Gun Wharf Tower of London.
Getting To Horse Guards Parade
Address: Horse Guards , Whitehall, London, SW1A 2AX
By Underground
The nearest tube stations are:
Charing Cross?- About 6 minutes walk.?Bakerloo, & Northern line
Embankment?- 10 minutes walk?Bakerloo, Northern, District & Circle line
By Bus
Busses: 11, 12, 159, 24, 3, 453, 53, 87, 88,
N109, N11, N136, N155, N2, N3, N381, N44, N87
By Train
Nearest, mainline, train station:
Charing Cross- About 6 minutes walk
By Car
Not recommended, Horse Guards Parade is in the congestion charge zone.
Parking is difficult to find and expensive.
Getting Around London

The Visitor Oyster Card?is the cheapest and most flexible way to travel around London.
Valid on London Underground, buses, trams and Dockland Light Railway (DLR).
Cheap?- a single tube journey will cost ?4.30 with cash but a maximum of ?2 with an Oyster card
Smart?- You will never be charged more than a price of a London Travel card
Easy?- your card is reusable and the credit never expires
The London Travel Card gives you access to unlimited travel on London Underground trains, buses, Dockland's Light Railway, trams and overland trains within London.
Cheap: with one ticket you get unlimited travel, [ within the zones your Travel card covers], working out much cheaper than buying single tickets
Easy: one ticket for one day or one week!
More Ceremonial Events
Check out the
Ceremonial Events Calendar
to discover what is going on when you are visiting London.