Tower of London / Ceremony of the Keys
Every night, for about 700 years, the Yeoman Warders, often called Beefeaters, have performed a gate-closing ritual known as the Ceremony of the Keys at the Tower of London.
At exactly 21:52 the Chief Yeoman Warder of the Tower comes out of the Byward Tower, dressed in red, carrying a candle lantern in one hand and the King's Keys in the other hand.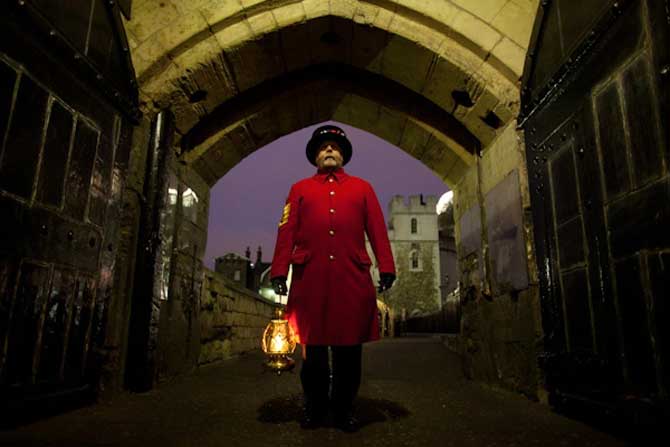 He walks to Traitor's Gate to meet members of the duty regiment Foot Guards who will escort him throughout the ceremony.
One soldier takes the lantern and they walk in step to the outer gate.
All guards and sentries on duty salute the King's Keys as they pass.
The Warder locks the outer gate and they walk back to lock the oak gates of the Middle and Byward Towers.
They then return along Water Lane towards the Wakefield Tower, where in the deep shadows of the Bloody Tower archway a sentry waits and watches.
As the Chief Warder and escort approach, the sentry's challenge rings out.
"Halt!"
"Who comes there?"
"The Keys" replies the Chief Warder.
"Whose Keys?"
"King Charles's Keys."
"Pass King Charles's Keys. All's well."
All four men walk to the Bloody Tower archway and up towards the broadwalk steps where the main Guard is drawn up.
The Chief Yeoman Warder and escort halt at the foot of the steps and the officer in charge gives the command to the Guard and escort to present arms.
The Chief Yeoman Warder moves two paces forward, raises his Tudor bonnet high in the air and calls "God preserve King Charles's." The guard answers "Amen" exactly as the clock chimes 10pm and 'The Duty Drummer' sounds The Last Post on his bugle.
The Chief Yeoman Warder takes the keys back to the Queen's House and the Guard is dismissed.
Visitors are escorted to the exit at 22.05.
The ceremony has never been cancelled and only delayed once when during WWII a bomb knocked a couple of warders off their feet.
Between 40-50 visitors are admitted, under escort, to watch the Ceremony of the Keys each night at 21:30 precisely.