Changing the Guard | Things To Do | London / Free Attractions
London hotels and restaurants tend to be expensive, but no city in the world has more free things to do and these suggestion might help you enjoy your trip without breaking the bank.
Top Ten Free Attractions
World class museums, lively street entertainment, bustling markets, Royal Parks, iconic sights and historic ceremonies all feature in our top ten list of free attractions that are waiting for you in London.
1. Changing the Guard at Buckingham Palace
No surprise that top of our list is Changing the Guard at Buckingham Palace.
Popular with residents and visitors alike the free to watch ceremony epitomises the pomp and ceremony for which Britain is famous.
Two less well known ceremonies also take place daily at Horse Guards where The Queen's Life Guard change daily and have a second parade at 4 o' clock when they dismount.
2. Museums
Free to all visitors there is something for everyone in London's famous museums.
Below is a list of the most visited museums many of which see their visitors coming back time after time.
The British Museum - Great Russell Street, London, WC1B 3DG
Open daily - 10:00 - 17:30 and to 20:30 on Fridays
From Egyptian mummies to samurai armour this is one of the world's greatest museums.

The Science Museum - Exhibition Rd, London SW7 2DD
Open daily 10:00 -18:00
Space exploration, the Apollo10 command module, steam trains and interactive exhibits are waiting.
Natural History Museum - Cromwell Road, London SW7 5BD
Open daily 10.00-17.50
From whales to a roaring T-Rex, in the dinosaur gallery, ?this museum is a family favourite.
Victoria and Albert Museum -Cromwell Rd, London SW7 2RL.
Open: Saturday-Thursday: 10:00 - 17:45 Friday 10:00 - 22:00
Thousands of years of decorative art and design history.

Imperial War Museum - Lambeth Rd, London SE1 6HZ
Open daily 10:00 - 18:00
From WW1 to present day conflicts the museum has many fascinating items
Museum of London - 150 London Wall, EC2Y 5HN
Open daily 10:00 - 18:00
The story of the capital from its first settlers to modern times
Royal Air Force Museum - Grahame Park Way, London, NW9 5LL
Open daily 10:00 - 18:00 Closes at 17:30 November to February
Only 30 minutes from Central London you will find over 100 aircraft on display.
National Maritime Museum - Park Row, Greenwich, London SE10 9NF
Open daily: 10:00 - 18:00
From the Battle of Trafalgar to First World War sea battles this is the place to be explore life on the sea.
Bank of England Museum - Bartholomew Lane, London EC2R 8AH
Open 10:00 - 17:00 Monday to Friday (Closed weekends and Public Holidays)
Discover the history of the Bank, its buildings, and the people who have shaped it over more than 300 years.?
Show More...
3. Art Galleries
From historic to contemporary works of a visit to these London art galleries certainly offer cultural entertainment without breaking the bank.
There are dozens of places to see art in London where work from Van Gogh to, Banksy hang in everything from magnificent historical buildings to converted power stations.
National Gallery - Trafalgar Square, London, WC2N 5DN
Open daily 10:00 - 18:00, Friday 10:00 - 21:00
Find works by masters including Van Gogh, da Vinci, Botticelli, Constable, Renoir, Titian and Stubbs
National Portrait Gallery - St Martin's Place, London, WC2H 0HE
Open daily 10:00 - 18:00 Thursday and Friday 10:00 - 21:00
Portraits of Kings, Queen's and personalities old and new as well as one of London's best roof top restaurants
Tate Britain - Millbank, London, SW1P 4RG
Open daily 10:00 - 18:00 Friday 10:00 - 22:00
Home to the largest collection of British art in the world including work by Turner and Bacon
Saatchi Gallery - Duke of York's HQ, King's Road, London, SW3 4RY
Open daily: 10:00 - 18:00
For cutting edge contemporary art this is the place to be
Tate Modern - Bankside London SE1 9TG
Open: Sunday -Thursday 10:00 - 18:00 Friday & Saturday to 22:00
Housed in an old powers station this is Britain's National Museum of contemporary and modern art
Show More...
4. Street Markets
London street markets provide a very different way to spend a day exploring, meeting the locals and hopefully finding a few bargains along the way.
Visiting a street market is not just limited to hunting for bargains it can be entertaining with street music, the aromas of food from around the world and the banter of the stall holders making it much more fun than a visit to the usual chain stores.
Camden Market - Lock Place, London, NW1 8AF
Open Daily 10:00 till late Visit website
Portobello Road Market - Portobello Road, London, W11
Portobello Market is really several markets in one so check the website.
Borough Market - Located next to London Bridge
Foodie heaven, try their website for a bit of local flavour

Brick Lane Market - Brick Lane, Shoreditch, London E1 6PU
Shops and restaurants open daily, but Sunday is the best day to visit
Brixton Market - Electric Avenue, London, SW9
Food from around the world and more. Visits their website and download map

Greenwich Market - Greenwich, London SE10 9HZ
Tuesday to Sunday 10:00 to 17:30.
Greenwich Market is one of London's best covered markets
Old Spitalfields Market - 16 Horner Square, London E1 6EW
An eclectic range of retailers and restaurants and events will keep you coming back time after time to this East London gem

Petticoat Lane - Between Middlesex and Goulston Streets, London E1.
Probably London's best known Sunday market Petticoat Lane has everything from designer goods to bric a brac
Piccadilly Market - In the courtyard of St James's Church, 197 Piccadilly, London W1.
Piccadilly Market is a perfect place to enjoy an afternoon browsing for gifts and looking around the stunning church built by Sir Christopher Wren, the architect of St Paul's Cathedral.
Columbia Road Flower Market - London E2.
Sunday flower market with some of the best and cheapest flowers around
Show More...
5. Street Entertainment
Some famous names in the music industry, including, Ed Sheeran, Bob Geldof and Rod Stewart have started their careers busking in London.
Five of the best spots, and maybe a chance to listen to the stars of tomorrow are
London Underground - Come rain or shine busker's entertain commuters with live music as they make their way to and from their trains.
Covent Garden, The Piazza - head for the piazza during afternoons into early evenings seven days a week.
The inner Covent Garden areas are where you can find opera and classical performers.
Covent Garden, James Street - provides an abundance of striking living statues. Follow James Street down to magic corner where you will find street musicians at work.
Trafalgar Square - a variety of musicians and living statues can be found in the wide pedestrian area outside the National Gallery
Southbank - Walk along the Thames towards the London Eye to see a range of quality street performances, seven days a week, is a busy spot with an electric atmosphere.
Show More...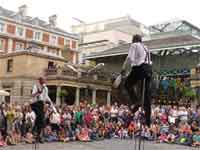 6. Sightseeing
The Houses of Parliament,(Big Ben), Buckingham Palace, Westminster Abbey, Trafalgar Square, and Tower Bridge are on most visitors must see list.
It is the secret bars, gorgeous gardens, medieval courtyards, ancient cloisters and churches, many with an incredible story to tell, in the most unexpected places are brings visitors back to London time after time.
7. Royal Parks
Beauty, nature and wildlife are not what most London visitors expect, but the Royal Parks with over 5,000 acres of beautiful green space provide a great place to relax in the heart of the capital.
There are eight Royal Parks in and around London
Hyde Park - has something for everyone from swimming and boating on the Serpentine to concerts, exhibitions and speakers corner.
St James's Park - adjoining Buckingham Palace and The Mall, provides striking views of the London including The Shard, the London Eye..
Green Park - offers a quiet retreat from city life, right next to Buckingham Palace and is also used as a firing point for Gun Salutes.
Kensington Gardens - the Princess of Wales Memorial Playground with its huge wooden pirate ship is a firm favourite with younger visitors.
Regents Park - large open spaces, elegant flowerbeds and four children's playgrounds make this a popular spot to get away from the hustle and bustle of London.
Greenwich Park - overlooking the River Thames, is a great mix of green space, gardens and historical features with panoramic views across London.
Richmond Park - wide open spaces, grasslands and deer herds, just a stone's throw from central London provide a real escape to the country.
Bushy Park - next to Hampton Court Palace is famed for its mix of waterways, gardens and grassland, and roaming herd of red and fallow deer.
Visit the
Royal Parks website
for more information
Show More...
8. Ceremony of the Keys
The Ceremony of the Keys is the traditional locking up of the Tower of London which has taken place nightly for over 700 years.
You need to book, up to a year in advance to get free tickets for the Ceremony of the Keys
9. Parades, Shows and Carnivals
Annual parades and carnivals bring the streets of London alive with an amazing array of special events.
Some events are ticketed, but many are free.
London Parade - on New Years Day featuring more than 10,000 performers, bring music, merriment and laughter to the waiting crowds. The Parade starts as Big Ben strikes Noon on New Year's Day in Parliament Square and finishes on Piccadilly, at Berkeley Street approximately 15:00
Lord Mayors Show - takes place annually on the second Saturday in November, with approximately 5,500 participants, 2,000 military personnel, 200 horses, 220 motor vehicles, 65 floats, 20 marching bands, 22 carriages and the amazing Gold Coach.
St Patrick's Day - 17th March, or the weekends either side, join London's Irish Community to celebrate St Patricks Day.
Military Ceremonial - Watch the Guards, Massed Bands and Household Cavalry from the sidelines at high profile ceremonial events that epitomise the history, pomp and pageantry for which Britain is famous worldwide.
The Great River Race - The race is a 22 mile course down the Thames from Ham to the Isle of Dogs, with the finish line opposite the Cutty Sark at Greenwich. Around 300 boats take part, carrying approximately 2,000 competitors.
London Pride - is an annual celebration of the LGBT+ community with thousands of people travelling the route by foot or on floats.
The parade starts on Portland Place road and runs from BBC Broadcasting House down to Whitehall, where the parade disperses.
The Mayor's Thames Festival - on a weekend September street arts, events and animations, stretchfrom the London Eye to London Bridge station to create what is probaly the he longest street festival in Europe.
A firework finale takes place on the Sunday at 21:30 between Waterloo and Blackfriars Bridges.
Show More...
10. Behind Closed Doors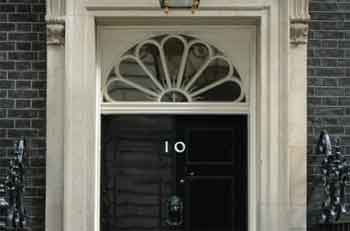 For one weekend in September hundreds of London's great buildings open their doors to all, completely for free.
No. 10 Downing Street, joins hundreds of other buildings to give you a look behind doors which are normally closed to the public.
Visit OpenHouseLondon for more information and a full list of places to visit.
With some of the world's best art, entertainment, shopping, dining, and history, there is always something to see and do in London and we hope these suggestions whet you appetite to visit what is one of the most vibrant and diverse cities in the world!